DEMENS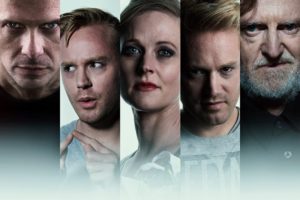 Dr. Osmond, played by Don Bridges (Cosi, Fiddler on the Roof, The Miss Fisher Murder Mysteries), is the brash and sinister head Doctor of the hospital. As the play's main patriarchal character, Osmond first comes across as respectable – that is until you realise he's on the edge of madness himself.
Bridges' definitely gives the stand-out performance of this play, with the Australian Shakespeare Company alumni's ominous presence felt even when he's absent from the stage.

Don Bridges' Dr Osmond is played with finesse and subtlety. He appears to have it together but lurking beyond the surface is a troubled mind and soul, hiding a dirty secret.

Veteran actor, Don Bridges is Doctor Osmond, head and owner of a financially ailing hospital. Using radical medicine for his patients' care, Bridges gives the part subtle conviction and a mad, yet intriguing authority.
'demens': chilling theatre that explores the blurred boundary between sanity and insanity, reality and fantasy.
Set in the claustrophobic world of a psychiatric hospital, 'demens' balances extreme pathos with flashes of dark humour as it probes themes of desire, patriarchy and prejudice through the eyes of four people.
Each has suffered trauma. Each is damaged. But not broken.
Cast
Lilith: Louise Crawford
Gabriel: Philip Cristian Claassen
Allan: Jai Luke
Dr Osmond: Don Bridges
Director: Natasha Broadstock
Writer: Amedeo Astorino
Designer: Victoria Haslam
Photographer: Michael Foxington
Lighting designer: Matthew Barber
Sound designer: Lindon Blakey
Lighting/sound operator: Nicholas Moloney
Projections: Mad Alice Media
Publicity: Kris Weber